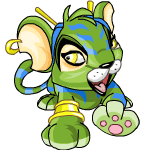 Don't ask me...Google Images got me to this guy when I searched for "haiku." Apparently, it's a "neopet."

We have crafted some haikus based on some of our featured and favorite artists and their albums. Jon, Brandon, and myself did them. It's a 5 7 5 hammjamm:
Wes McDonald -

1:50 In The Furnace
Westerbergian
From Birmingham he saunters
Bearing twangy hooks
Anti-Social Music and the Gena Rowlands Band -

The Nitrate Hymnal
Avant-garde crooning
Meets wild chamber punks for gasp!
Opera that's cool
Untied States -

Retail Detail
Spooky, intense jamz
Crashing, smashing, engrossing
Beauty in the noise?
Hazard County Girls -

Divine Armor
NOLA ladies rock
don't compare to L7 please
BC Rich with roses
Venice is Sinking -

Sorry About The Flowers
Melancholic pop
Boy/girl vox, strings, strange tunings
Songs of place and pets
About -

Bongo
Glitch-pop back again?
Cock Rock Disco never left,
Striking video, too.
13ghosts -

Cicada
A B-Ham hammjamm:
Southern gothic tour de force
Rad Marley cover
Cinemechanica -

The Martial Arts
Don't call it math rock
But supernatural skill
Deft and face-melting
LYLAS -

Lessons for Lovers
Learning love lessons
From colorful Western pop
Taught with mastery
Candy Bars -

On Cutting Ti-Gers In Half and Understanding Narravation
Dark and melodic
Lovely harpsichord runs frame
From Tampa? That's weird